GYM FOR LIFE CHALLENGE 2023 ALL ISLAND GYMNASTIC TOURNAMENT
Twenty four collegiate school gymnasts took part at this tournament on the 11th and 12th of September at the Sugathadasa Indoor Stadium.
St.Bridget's team was placed 3rd in the girls category among 28 participant schools.
8TH TOTAL GYM INTERNATIONAL GYMNASTICS TOURNAMENT held in Malaysia
Ten Collegiate school gymnasts took part at the above tournament from 17th to 22nd August 2023.
The collegiate school under 15 team was placed 6th and was awarded merit. 
Jiah Jayawardena, Maria Hirundee, Kelisha Fernando, Sayumli Hesanya, Shanaya Beruwalage, Aheli Rodrigo, Eliza de Zilva, Anika Fonseka, Yeheni Rodrigo and Rachel Sithumya.
We congratulate our young gymnasts on their wonderful effort!
108th National Tennis Championship
14 year-old Dinara de Silva from St. Bridget's Convent clinched the Women's Open title at the recently concluded 108th National Tennis Championship. 
Dinara secured her 3rd title at the 108th National Tennis Championships by winning the Women's Open category comfortably by two sets to nil in the final.
She also won the Girls U16 and U18 titles last week while securing the runners up position in the Women's Doubles category.
COLOMBO OPEN ARCHERY INTERNATIONAL TOURNAMENT
128 Archers collectively shot 33,000 arrows consecutively over a period of 2 hours and 30 minutes.
The Cholan Book of World Records recognises this outstanding accomplishment as the first of its kind.
Each archer, with utmost precision and dedication contributed to the success of this feat.
This event was held on 15th & 16th July 2023 at Mahinda Rajapakse International Stadium, Diyagama.
12 of our archers took part in this event. They are,
Denali Perera ,  Nadha Maharoof , Dulya Peiris, Kiara Jayasooriya, Dilenya Wickremasinghe ,  Thisakya Wickremasinghe, Rebekah Grace, Dinudhi  , Saheli Fernando, Denise Alwis , Senuri Dhanayake , Kailyn Perera and Oneesha Ratwatte.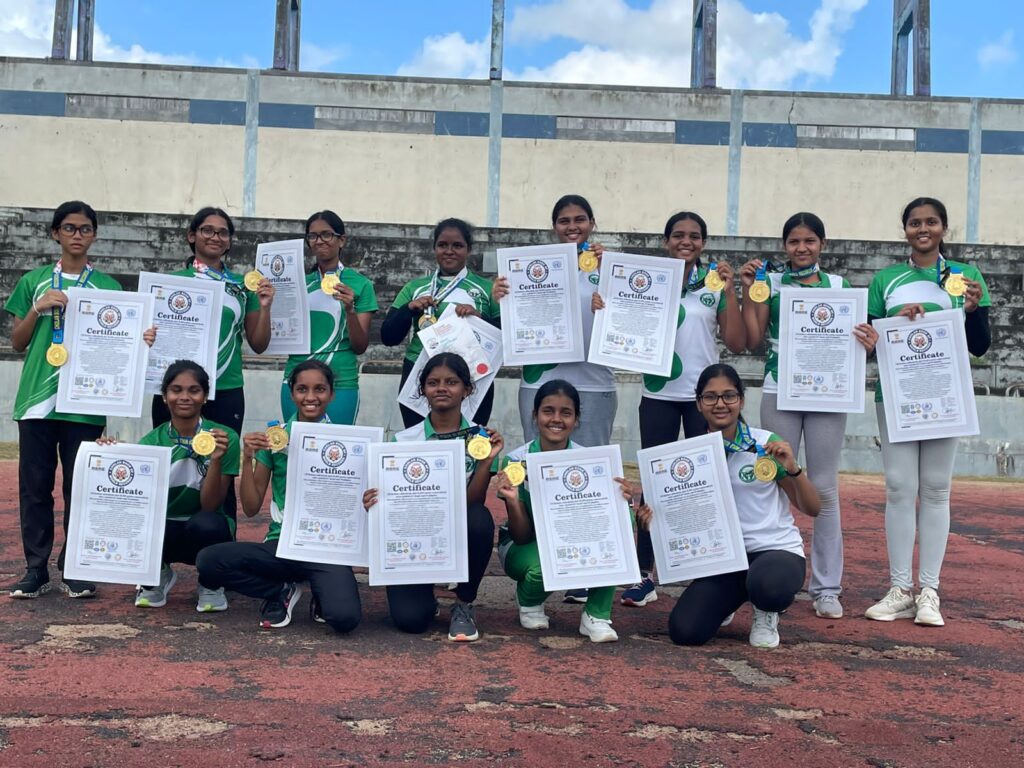 Sri Lanka Schools Shooting Sports Colours Awards 2022
At the above event held on 7th July 2023 at the BMICH, the following shooters were awarded colours.
Taryn Martenstyn, Thehasha Fernando, Andrea Weerakoon, Natasha Hendalage, Denali Perera, Shania Silva, Themalya Peiris and Sineli Mendis.
Air Pistol Junior Women Colours Award was awarded to Natasha Hendalage who also represented Sri Lanka at the Youth Olympics 2020 held in Lausanne, Switzerland.
Youth Women Pistol – Best Shooter Award was awarded to Taryn Martenstyn.
Zonal Basketball tournament 2023
The under 14 Basketball team emerged 1st runners up at the Zonal Basketball tournament which ended on 7th July 2023 at the Holy Family Convent, Bambalapitiya Basketball court.
During their run to victory they met Horizon International school, Vishaka Vidyalaya & Ladies College.
At the consolation finals they met Devi Balika Vidyalaya and won with a score of 41/18 to secure 1st runners up.
The team is coached by Mr Roshan Randima.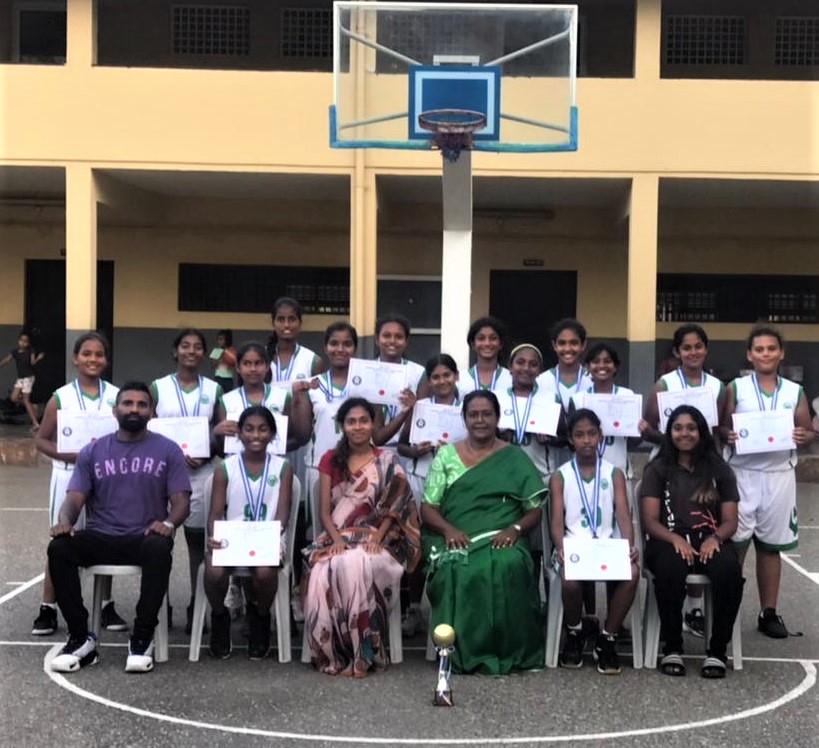 Sri Lanka Schools Badminton Under 17 Team Championship 2023 'C' division
At this championship which was held at Bandarawela from 20th to 24th April 2023, the St. Bridget's Convent team emerged 2nd runner-up.
The team was captained by Kiyara Rupasinghe.
SRI LANKA SCHOOLS Under 16 ALL ISLAND BASKETBALL TOURNAMENT - C Division
GYM FOR LIFE CHALLENGE TOURNAMENT
The Collegiate school of St. Bridget's Convent commenced providing training on gymnastics as a Sport from the current year 2023. The very first event at which the under 12 member team took part in is the GYM FOR LIFE CHALLENGE TOURNAMENT at Sumedha International School, Gampaha on the 9th of April. This team was able to secure the bronze category title at this tournament.
At the 2022 Nationals conducted by the Sri Lanka Tennis Association(SLTA), Dinara won a triple winning the Junior National (under18) Singles & Doubles Titles and also the Under 16 singles title. Dinara ended 2022 as the Number 1 ranked Junior Player in Sri Lanka having won the under 18 singles title at 3 out of the 4 major local tournaments.
In 2022 Dinara represented Sri Lanka at the International Tennis Federation (ITF) World Junior Tennis Asia Oceania Qualifying Event held in India.
Dinara plays in the International Tennis Federation (ITF) World Tennis Tour Junior circuit Under 18.
For her performances during the year Dinara was adjudged the "Outstanding Schools Tennis Player of Year" at the National Schools Sports Awards in January of 2023.
Add Your Heading Text Here