It is almost impossible to imagine that St. Bridget's Convent, the school which has moulded so many lives and sent so many 'successes' out into the world was once (hundred years ago, to be precise) just a thought.. one man's dream.
In 1902, Reverend Dr. T. A. Melizan (the then Archbishop of Colombo) saw his long entertained dream become a reality when the Sisters of the Good Shepherd opened a school for the education of young ladies.
A school which, to a person standing on the brink of its centenary year, sounds very much like a typical storybook school. Close your eyes and you can almost see it; the twinkle-eyed nuns who were 'supposed to be' strict disciplinarians, lessons under trees when the weather was good, jovial teachers with a distinct sense of joie-vivre and their band of students with high hopes, dreams and expectations.
100 years later we look back with nostalgia to the beginnings of our school and it is with a sense of pride that we walk down the annals of its history.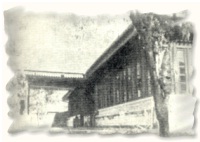 A rented house down Turret Road known as 'The Firs' was the beginning of the majestic school that stands today, bringing back happy memories to all those who mingled amidst its walls. Bought over from the late Mr. Harry Pieris the 'spacious' and 'sprawling' bungalow was considered the ideal home. 'The Firs' had a long verandah, which served as the school hall and each of the larger room was converted as classroom. In a room on the east was situated the Chapel, which is said to have had a resplendent altar, illuminated by candles.
Shedding a warm glow these candles were kept alight throughout school hours bringing to the students that cozy feeling of a true home away from home.
Naturally like anything just starting out, St. Bridgets had her share of 'firsts'. But her first steps by no means faltered. They were careful, precise and taken to ensure her long life, rich with tradition and success.
February 17th 1902 saw our very first school day. Around 20 students both boys and girls arrived on that day, only to be joined by boarders two weeks later. St. Bridget's Day as our school day came to be known was the beginning of a tradition that transpired celebrations year after year, which is continued to this day.
The founder students who had worked hard were rewarded in 1906 when the school held it's first Prize Giving. A day of immense significance it aptly recognized the efforts and enthusiasm of the students, more so the patience and dedication of the teachers shaping the destinies of these youthful souls.
In 1911, St. Bridget's welcomed as its own Superior, the 'large-hearted' Mother St. Francis Borgia. One who as a teacher, the school had come to love and respect. Those who remember her speak of her as a conscientious and kindly nun who could be a strict disciplinarian, but it is as a friend that they remember her the best.
"She was kind, strict and efficient, a combination of qualities that are generally not compatible and yet so essential for success" (A.W. Lorenz Andree). And succeed she did, guiding her school to its destiny – to become one of the leading Catholic Institutions in the Island later
In 1912, the fast-growing family at St. Bridget's needed a larger home. Thus we shifted houses moving to the present site at Cinnamon Gardens where we settled down very comfortably. The pupils then numbered around 130.
Reverend Father G. Griaux, O.M.I. blessed the cornerstone of the new school building on December 8th, 1914 and the following year the new building was solemnly blessed by His Grace, Most Reverend Dr. A. Coudert, Archbishop of Colombo at the time.